Over the last year, Americans have been inundated with stories about college recruitment scandals, the rising costs of higher education, and surveys that indicate a strong partisan divide as it pertains to trust in the academy generally. Building off of existing work undertaken by Pew, a new Charles Koch Foundation survey, conducted by YouGov in late August, reveals Americans' specific challenges about higher education and provides further nuance to this debate.
Despite the challenges that exist, Americans still believe the country's colleges and universities play a critical role in society and have a positive impact on the lives of individuals. They also believe these institutions are one of the few places left in society where dissent and debate are encouraged to flourish for the greater good.
The Foundation's survey asked over 1,500 adults in the United States on their views about higher education, and found the following:
A Large Proportion of Americans do Believe Higher Education is Going in the Wrong Direction, but with Significant Uncertainty
On a Pew Research survey in 2018, 61 percent of adults responded that they thought higher education was going in the wrong direction and 38 percent thought it was going in the right direction. A very similar question was asked on the Charles Koch Foundation and YouGov survey this year with one critical difference—respondents were allowed to indicate that they were not sure. With this addition, results differed considerably between the surveys. Fifty percent of Americans felt higher education was going in the wrong direction, 25 percent said in the right direction, but 26 percent said they were not sure.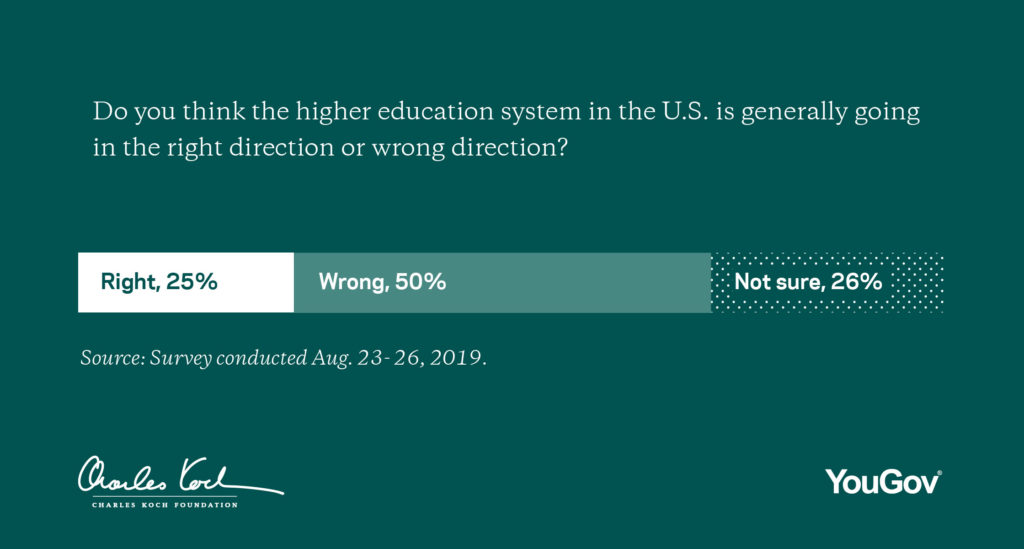 The Reason Higher Education is Seen to be Going in the Wrong Direction is Largely Related to Value
Of those 50 percent of people that said higher education was going in the wrong direction, when asked if the cost of attending is too high with the payoff being too low was a major reason, minor reason, or not a reason for this, 76 percent of those respondents said it was major reason and another 12 percent said it was a minor reason. This was far and away the most strongly held belief (57 percent) as to why higher education was going in the wrong direction, with students not being prepared to succeed in the workplace a distant second place (23 percent).
But at the same time, Americans Believe a Degree Is Valuable
When asked if there still is positive value in attending a college or university, 62 percent of Americans said there is. Only 17 percent of Americans said no. Twenty-two percent were unsure.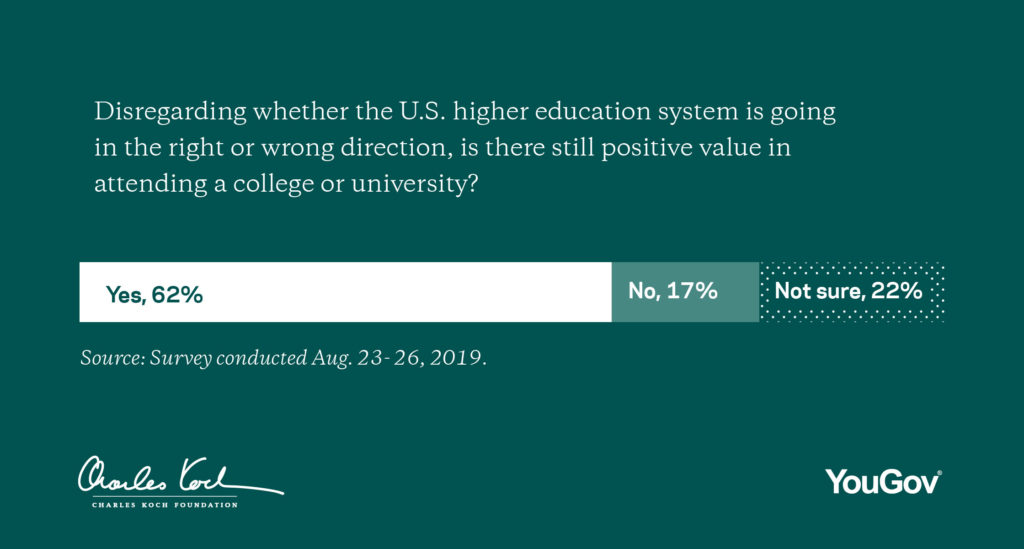 Americans Believe Colleges and Universities Are More Open to Ideas than other Institutions in Society
The survey asked about how certain institutions handled competing ideas. A strong plurality of Americans (45 percent) believe colleges and universities are a very good or good venue where competing ideas can be heard. This response rate was higher than the number who said their local community (40 percent); places of worship (36 percent); the internet and social media (35 percent); newspapers (32 percent); television (28 percent); and their state government (26 percent).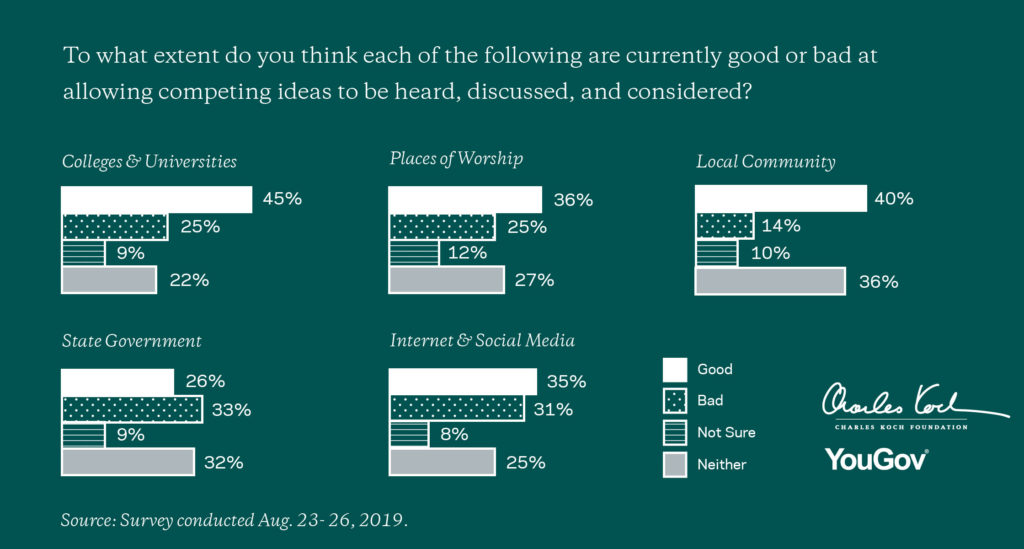 Americans Would Recommend Attending College
When asked whether they would recommend to their children, close relative or the children of someone you know that they attend college or university, 59 percent of Americans said they would. Only 20 percent said they would not. Twenty percent also were unsure.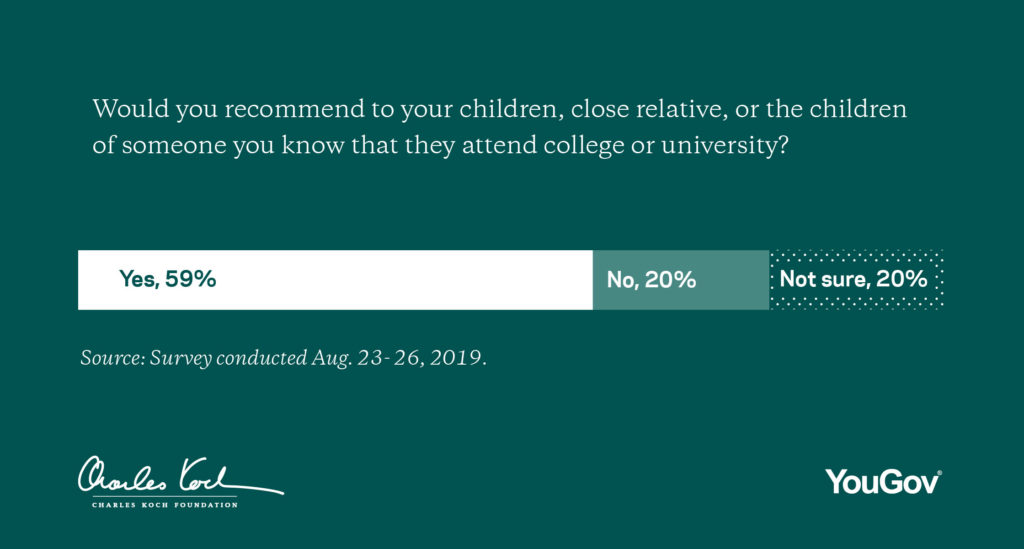 Americans Believe Higher Education Changes Individuals' Lives
When asked if they believe higher education has a positive transformative impact on those who attend, 56 percent of Americans said they believe it does. Only 22 percent said it does not. Another 22 percent were unsure.
Many Americans Believe Higher Education Drives Innovation and Progress
When asked where new ideas are most likely to originate, higher education (22 percent) was among the top 3 with business (23 percent) and communities (22 percent).
Many Americans Believe Educators have Played an Important Part in Their Lives
When asked if there was a professor or a class at college that had a profound impact on your life, a plurality (47 percent) of those who have attended at least some college said there was. Twelve percent said they were unsure while 42 percent said there was not.
While Americans have some already well documented concerns about higher education –such as the cost of getting into an institution– they are also well aware of both the personal and societal benefits colleges and universities bring to the table.
These concerns point to a need to monitor, delve deeper, and continue to ask questions as they relates to the present and future of higher education in the United States. For example, encouraging greater dialogue and experimentation as it relates to controlling cost, enhancing access, and maintaining America's role as a global leader in higher education.
These findings, however, also suggest that key stakeholders in higher education need to be bold and not shy away from celebrating the extraordinary work being undertaken by students and scholars.
Methodology: The survey was conducted between the 23rd and 26th of August 2019. Total sample size was 1533 U.S. adults. The survey was conducted using an online interview administered to members of the YouGov Plc panel of 1.2 million individuals who have agreed to be take part in surveys. The responding sample is weighted to the profile of the sample definition to provide a representative reporting sample.