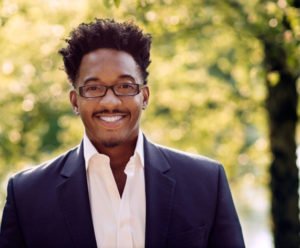 "The first job I had out of college was working for a foster care agency. I became really interested in how things get tangled up in bureaucracy, and that got me interested in social policy and public policy," says Brandon Davis.
Davis, who studied psychology and sociology as an undergraduate, went on to get a master's degree in social work with a concentration in policy, planning, and administration, after which he decided to continue researching public policy.
Davis began a political science doctorate program at the University of Alabama in 2012. "My research focuses on criminal justice policy, and how contact with the criminal justice system affects voter registration," he says. Citing the situation in Ferguson as an example of how this issue impacts people, he explained: "If we allow the government to apply a type of political violence in a geographically concentrated area, it reduces the opportunities, freedoms, and liberties of people living in those areas."
On the issue of mass incarceration within communities, Davis notes, "From the outside looking in you say, 'Oh, those communities have broken homes.' But you don't see that the reason these homes are broken up is because there's a hyper police presence in the neighborhood."
Caught up in research and producing papers, Davis understands the vying priorities for student scholars. Focused research and writing demand attention, but many students juggle a full- or part-time job on top of this.
In the summer of 2014, Davis took part in the Koch Fellow Program: Policy through the Charles Koch Institute. He participated in professional development sessions one day per week and worked in the Center for Representative Government at the Cato Institute the rest of the week.
During this time, he learned about dissertation grant opportunities through the Charles Koch Foundation.
"Receiving this dissertation grant was critical, because I got it at the end of the spring semester," Davis said, sharing how the grant gave him the financial independence to focus on his studies and work on his prospectus.
The day we spoke, Davis had just completed a successful prospectus defense. Only a few hours later, he was already developing a timeline for the next two years.
With these goals and interests directing his talents, Davis will write his dissertation, intent on earning his doctorate in 2017.